Who's Kiefer Sutherland Dating? Have A Look At His Love Life
Kiefer Sutherland, the London-born Canadian actor, director, and producer, has had an illustrious career in Hollywood. He made a solid name for himself as a young movie star in the late 80s and early 90s with roles in several films such as "Stand By Me", "Lost Boys", and "A Few Good Men". However, his career hit a slump in the 90s, with a few moderately successful projects. Then came an offer for a role on television in the groundbreaking show, "24". The rest, as they say, is history.
His recent project is a Paramount+'s new financial thriller series 'Rabbit Hole' where he is back playing a data analyst and corporate spy who has a history of paranoia and mental illness.
But while Kiefer's professional life has been a rollercoaster ride, his personal life has been no less interesting. Let's take a closer look at his dating journey, including his past relationships, engagements, and his current love interest.
Kiefer Sutherland's Relationships
Camelia Kath
Kiefer's first marriage was to Camelia Kath, the widow of Chicago guitarist/singer Terry Kath. They were married from 1987 to 1990 and had one daughter, Sarah. Through their marriage, he became stepfather to Camelia's daughter, Michelle Kath, who has two sons.
Julia Roberts
In 1990, Kiefer co-starred with Julia Roberts in "Flatliners" and they fell in love. In August 1990, they announced their engagement, and an elaborate studio-planned wedding was scheduled for June 14, 1991. However, just three days before the wedding, Roberts broke off the engagement allegedly because Sutherland had been meeting with a go-go dancer named Amanda Rice.
Sutherland denied having an affair with Rice and said that they only met because he liked to play pool. On the day of their scheduled wedding, Roberts went to Ireland with Sutherland's friend Jason Patric.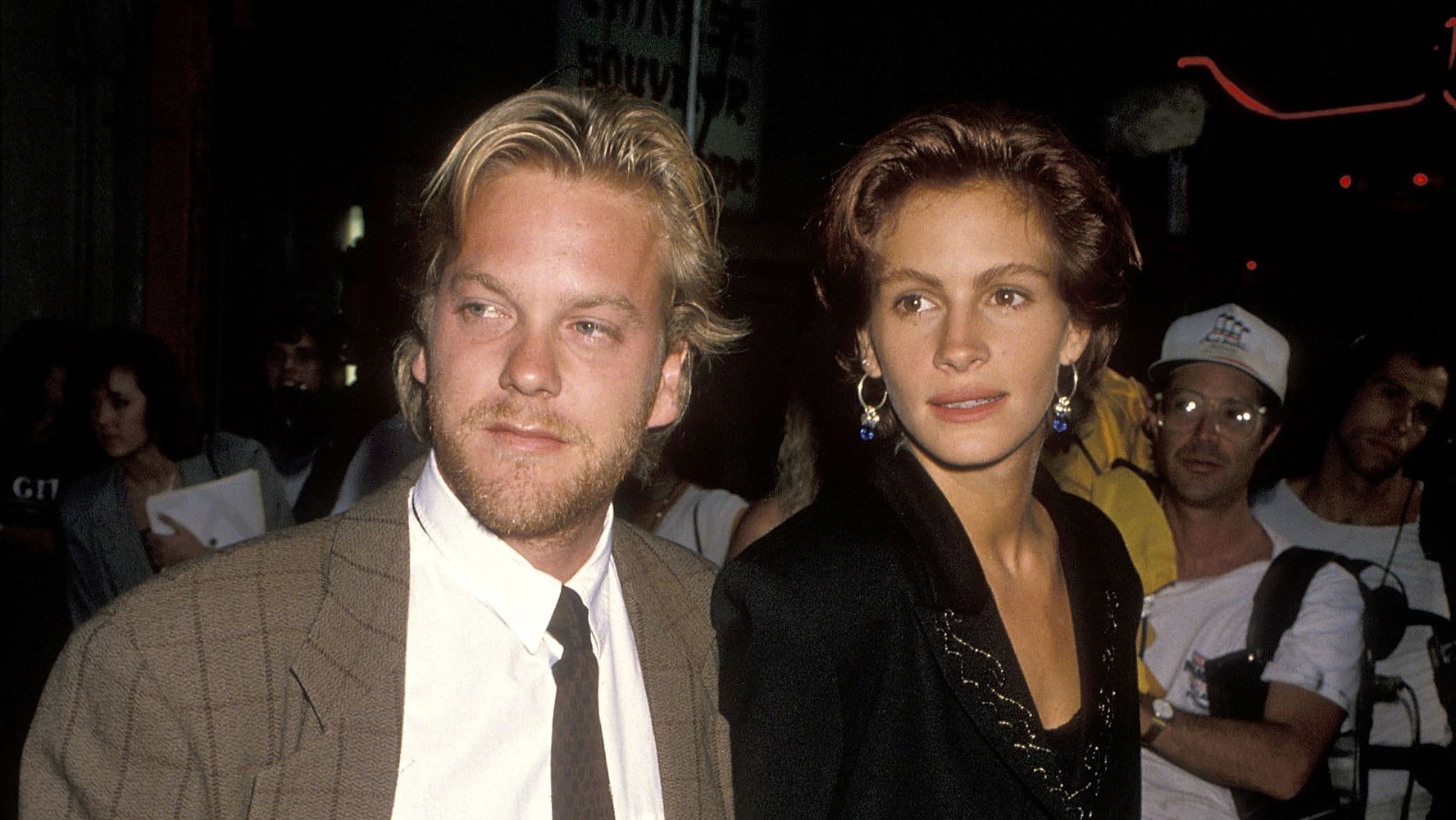 Despite her split with former flame Kiefer Sutherland, Roberts continued to soar higher and higher, starring in box office hits such as "My Best Friend's Wedding," "Notting Hill," and "Runaway Bride" as she ushered in the 21st century.
In 1993, Roberts made a surprising move by marrying singer-songwriter Lyle Lovett, who was ten years her senior. The two tied the knot just three weeks into their relationship, but their marriage was short-lived, as they separated less than two years later.
Roberts eventually met her current husband, cinematographer Danny Moder, while working on the set of the movie "The Mexican" in 2001. The couple got married the following year and went on to welcome twin children, Hazel and Phinnaeus, in 2004. Roberts later gave birth to their third child, a son named Henry, in 2007. The family resides in their home in Los Angeles.
Kelly Winn
In the late 1990s, Sutherland purchased a 900-acre ranch in Montana and toured on the rodeo circuit. He then met and married Kelly Winn on June 29, 1996. However, the couple separated in 1999, and he filed for divorce in 2004. The divorce was finalized on May 16, 2008. He also dated Bo Derek in 2000.
Also read: Zayn Malik's Dating History: From Gigi Hadid To Newly Linked Selena Gomez
Cindy Vela
Kiefer Sutherland is currently engaged to Cindy Vela, a model/actress from Olmito, Texas. They started dating around 2014 and have kept their relationship private until 2017. Vela and Sutherland became engaged in 2017, and as of 2019, they reside in Toluca Lake, Los Angeles.
It's clear that Kiefer Sutherland has had his fair share of relationships and engagements, but it seems like he's finally found happiness with Cindy Vela. Let's hope their love story continues to thrive and prosper.