What Is Going On Between Selena Gomez And Hailey Bieber: Drama Explained
How It All Started?
The internet is abuzz with drama between Selena Gomez and Hailey Bieber. The saga began on February 22 when Gomez posted a TikTok joking about her over-laminated eyebrows. Hours later, Bieber's wife, Hailey, posted a screenshot of herself FaceTiming with her friend Kylie Jenner. Fans perceived the post as a dig against Gomez, and rumors of a feud began to spread.
Jenner and Gomez denied the rumors, but the drama continued. Gomez announced a break from social media on February 23, and rumors continued to grow. On February 28, Hailey Bieber posted an Instagram story set to Rema's song "Calm Down," which some fans interpreted as a dig at Gomez.
Despite the drama, Gomez's streaming numbers have increased, and searches for her cosmetics brand, Rare Beauty, are spiking. On March 24, Gomez posted an Instagram story condemning death threats that Hailey Bieber had received. Hours later, Bieber thanked Gomez for calling for an end to the "ongoing narrative between her and I" and urged people to be more thoughtful on social media.
Finally, on March 26, both Gomez and Bieber posted on their Instagram stories, urging their fans to be kind to each other and putting an end to the ongoing drama.
It's unclear whether there was ever a feud between Gomez and Bieber or if it was simply a misunderstanding. Either way, both celebrities have urged their fans to stop the negativity and move on. As Bieber stated, "The world has enough hatred and negativity."
Also read: Selena Gomez and Zayn Malik Spotted Kissing on a Romantic Dinner Date in NYC
Here's A Timeline Of Their Relationship And Rumored Feud:
In September 2018, Hailey insisted that "it's all love" between her and Gomez, and Justin Bieber made an Instagram post in March 2019 urging fans to accept Hailey as his wife while adding he will always have a place in his heart for Gomez. However, in October 2019, Gomez released a breakup song "Lose You To Love Me," which many believed to be about her split from Justin Bieber.
The drama escalated when Hailey posted a screenshot of Summer Walker's song "I'll Kill You" on her Instagram story on the same night that Gomez's song debuted. Fans speculated that the post was a dig at Gomez and her new song, but Hailey denied this in an Instagram comment. Gomez also urged fans to stop their rude behavior.
In April 2022, Hailey posted a TikTok calling for an end to hateful comments, stating that "enough time has gone by where it's valid to leave me alone." She also gave an interview on the Call Her Daddy podcast in September 2022, where she said she and Gomez have spoken and are on good terms.
Despite their efforts to quell rumors, the drama resurfaced in January 2023 when Hailey posted and deleted a TikTok in which she, Kendall Jenner, and Justine Skye lip-synced to a popular audio ("I'm not saying she deserved it, but God's timing is always right"), which some believed was about Gomez being body-shamed on social media. Gomez commented on a fan's TikTok video on February 9, saying, "It's ok! I don't let these things get me down! Be nice to everyone! x."
The ongoing feud between Gomez and Hailey has been a hot topic for years, with fans constantly speculating about their relationship. While the two have denied any bad blood in the past, it seems that their feud may never truly be over. However, as Gomez said, it's important to "be nice to everyone" and leave the hate behind.
Also read: Gigi Hadid Is Supportive of Ex Zayn Malik's Romantic Life As He Was Spotted Kissing Selena Gomez
How It Took An Ugly Turn
The ongoing drama between Selena Gomez and Hailey Bieber has sparked heated discussions among their fans on social media. According to data, the hashtag #teamselena on TikTok has received a massive 750 million views, while #teamhailey has 57 million views. Fans have been sharing their theories and opinions on the matter, with some even tracking how many followers Hailey has lost in recent weeks. The comment sections of both stars' Instagram accounts are overflowing with remarks about the drama, with some condemning Hailey as a "mean girl."
How It Impacted Their Social Media Following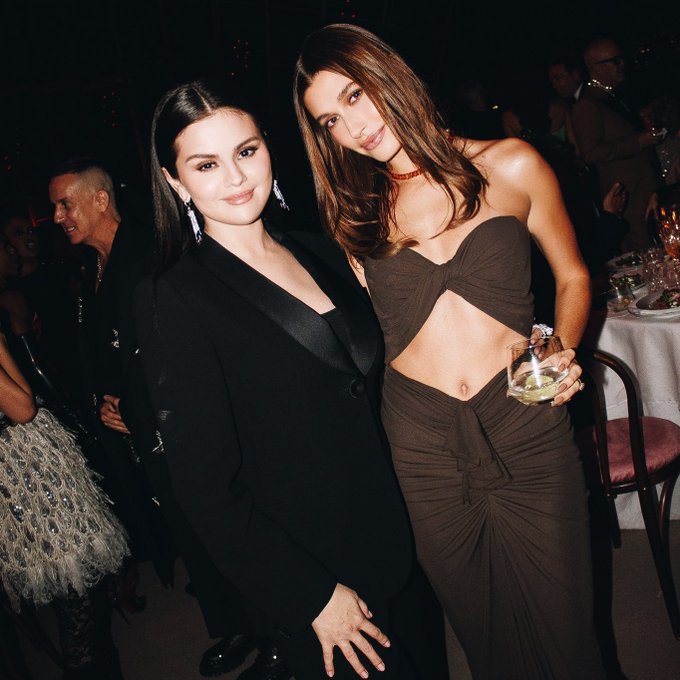 Despite the intense scrutiny, Selena Gomez has gained more than 20 million Instagram followers since the drama began unfolding on February 22. She overtook Kylie Jenner that day to become the most-followed woman on Instagram with 380 million followers, and her total has steadily increased to 403 million as of March 24. This made her the first woman to pass 400 million followers on the platform. In contrast, both Hailey Bieber and Kylie Jenner have each lost hundreds of thousands of followers in the weeks following the drama.
Amid the online drama, Selena Gomez has urged fans to be kinder and consider others' mental health, saying that her heart has been heavy. It remains to be seen whether the two stars will continue to engage in public drama or resolve their issues privately. Regardless, the ongoing feud has sparked intense discussions and garnered significant attention on social media.