Who Is Lindsay Lohan's Husband? All About Bader Shammas
Lindsay Lohan and Bader Shammas married in 2022
Lindsay Lohan has found love with Bader Shammas.
After Lohan announced their engagement in November 2021 via Instagram, PEOPLE confirmed in July 2022 that the actress tied the knot with Shammas when Lohan referred to him as her "husband" in an Instagram post.
I am the luckiest woman in the world. Not because I need a man, but because he found me and knew that I wanted to find happiness and grace, all at the same time. I am stunned that this is my husband. My life and my everything. ❤️every woman should feel like this everyday 💖🙏," Lohan wrote in the caption.
The announcement marked a rare glimpse into Lohan's personal life since moving to Dubai in 2014, considering she has seldom posted or spoke publicly about their relationship on social media. The couple first sparked romance rumors in February 2020, but the details of when and how they met are unknown.
So, who is Lindsay Lohan's husband? Despite their relationship being relatively low-key and Bader Shammas having a private Instagram, here's everything we know about the financier and his relationship with the Falling for Christmas star.
He Works As A Financier
Shammas is the assistant vice president at Credit Suisse. Multiple outlets reported a LinkedIn profile with his name and occupation. According to its official website, Credit Suisse is "a leading financial services company, advising clients in all aspects of finance, across the globe and around the clock."
The LinkedIn profile reportedly lists Shammas as having attended the University of South Florida and the University of Tampa.
Recommended:What Is Lindsay Lohan's Net Worth? All About How The Former Child Actress Made Her $$$
He's Been Romantically Linked To Lohan Since 2020
In February 2020, Lohan sparked romance rumors when she shared a since-deleted group photo from a music festival in Dubai, casually mentioning a "boyfriend" in the caption.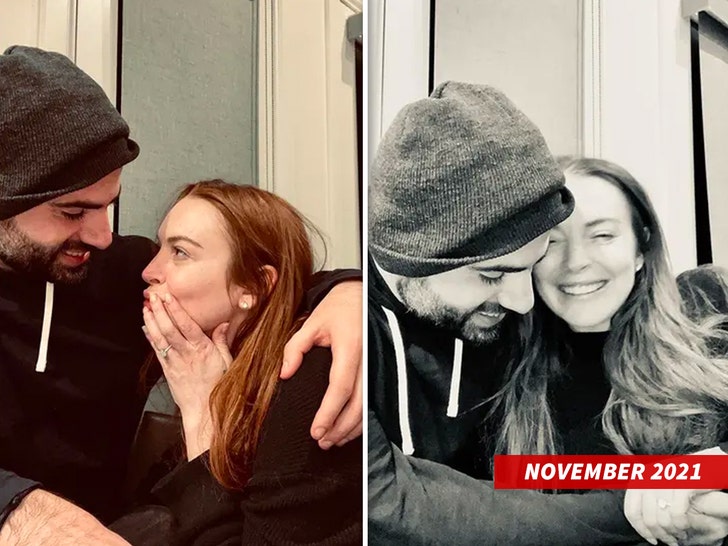 In the picture, Lohan was seen happily posing between a man in a black jacket and Bastille drummer Chris "Woody" Wood, who performed with his band that night. Also among the group were Lohan's sister Aliana and rocker Dan Smith.
"@aliana lovely night with sister and my boyfriend bader" she wrote, adding,"such a magical night."
A rep for Lohan didn't confirm the dating rumors at the time.
He Has A Private Instagram Account
In her engagement post, Lohan tagged Shammas' account, which he keeps on private. As compared to the actress' nearly 11.5 million followers on the social media platform, he has a little over 650 total Instagram followers.
His profile photo shows him smiling while wearing a hat and sunglasses.
Lohan Called Him Her "Forever Valentine"
Lohan shared a black-and-white photo of the two cuddled together on Valentine's Day 2022.
"My forever Valentine," she captioned the image, adding a red heart emoji.
He lives in Dubai
Like Lohan, Shammas resides in Dubai.
"It's a billionaire's playground," Andy Cohen told Jerry O'Connell and co-host Natalie Morales on The Talk. Cohen hosts The Real Housewives of Dubai.
In 2017, Lohan elaborated on her decision to move abroad in an interview with Entertainment Tonight.
"I love living in New York, but I do love the serenity and peace that I find living in the Middle East because there are no cameras in Dubai, and I can actually focus on what I want to do in life," she said. "I don't always have to be scrutinized every second. I can have a private life and have a public life, but when I choose to. I think that's really important."
He Wasn't Lohan's First Fiancé
When Lohan and Shammas got engaged, she wrote on Instagram, "My love. My life. My family. My future," adding the hashtag "#love."
However, Shammas wasn't the first man to propose to Lohan. She was previously engaged to Russian business mogul Egor Tarabasov. The relationship ended in 2016 when a video of a physical altercation between the two surfaced online.
"I genuinely fell in love with him, but he broke my trust and made me feel unsafe," Lohan said.
He Has The Approval Of Lohan's Family
Shammas also has won over his in-laws. When news of their engagement broke, Lohan's mom, Dina, reacted by writing on her Instagram Story at the time, "My heart is full. #engaged #newbeginnings."
Lohan doubled down on the family vibes when she posted a 2021 recap collage on Instagram featuring photos of her and Shammas spending quality time with her family.
Recommended:'Spirited' Review: Ryan Reynolds and Will Ferrell Find New Cheer in 'A Christmas Carol'
He Married Lohan In 2022
After Lohan referred to Shammas as her husband in an Instagram post, PEOPLE confirmed Lohan was married in July 2022.
Following the wedding, the two vacationed in the Turkish Riveria, staying at The Bodrum EDITION, a luxury resort near the Yalikavak Marina, which sits at the most western point of the Bodrum peninsula.