Only Murders in the Building Season 3: Release Date, Cast & What to Expect
The critically acclaimed American mystery-comedy series, Only Murders in the Building, is gearing up for its third season, and fans are eager to know what lies ahead for the show's beloved characters. The series, created by Steve Martin and John Hoffman, premiered in August 2021 on Hulu Originals and quickly gained praise for its humor, engaging storyline, and the chemistry between its lead actors, Steve Martin, Martin Short, and Selena Gomez. With the second season released in June 2022, anticipation is building for the third installment of this captivating whodunit.
Release Date and Production Status
Although the official release date for Only Murders in the Building Season 3 has yet to be announced, it is expected to premiere in mid-2023. The show's creators have been tight-lipped about the production timeline for the upcoming season, but Steve Martin recently shared a tweet with a selfie, indicating that filming for the third season has begun.
Also read: Virgin River Season 5: Release Date, Cast, Plot And Other Speculations
Cast and Guest Appearances
The main cast members, Steve Martin, Martin Short, and Selena Gomez, are all set to reprise their roles as Charles-Haden Savage, Oliver Putnam, and Mabel Mora, respectively. Paul Rudd will also return as Ben Glenroy. In addition to the returning cast, several new faces are expected to join the ensemble.
Jesse Williams, known for his role as Dr. Jackson Avery on Grey's Anatomy, is slated to appear in the third season, although details about his character remain under wraps. Meryl Streep, widely regarded as one of the greatest actresses of her generation, will also join the cast in an undisclosed role. It is uncertain whether Cara Delevingne and Tina Fey, who played Mabel's love interest Alice and rival podcaster Cinda Canning in previous seasons, will return for Season 3.
Storylines and Episode Count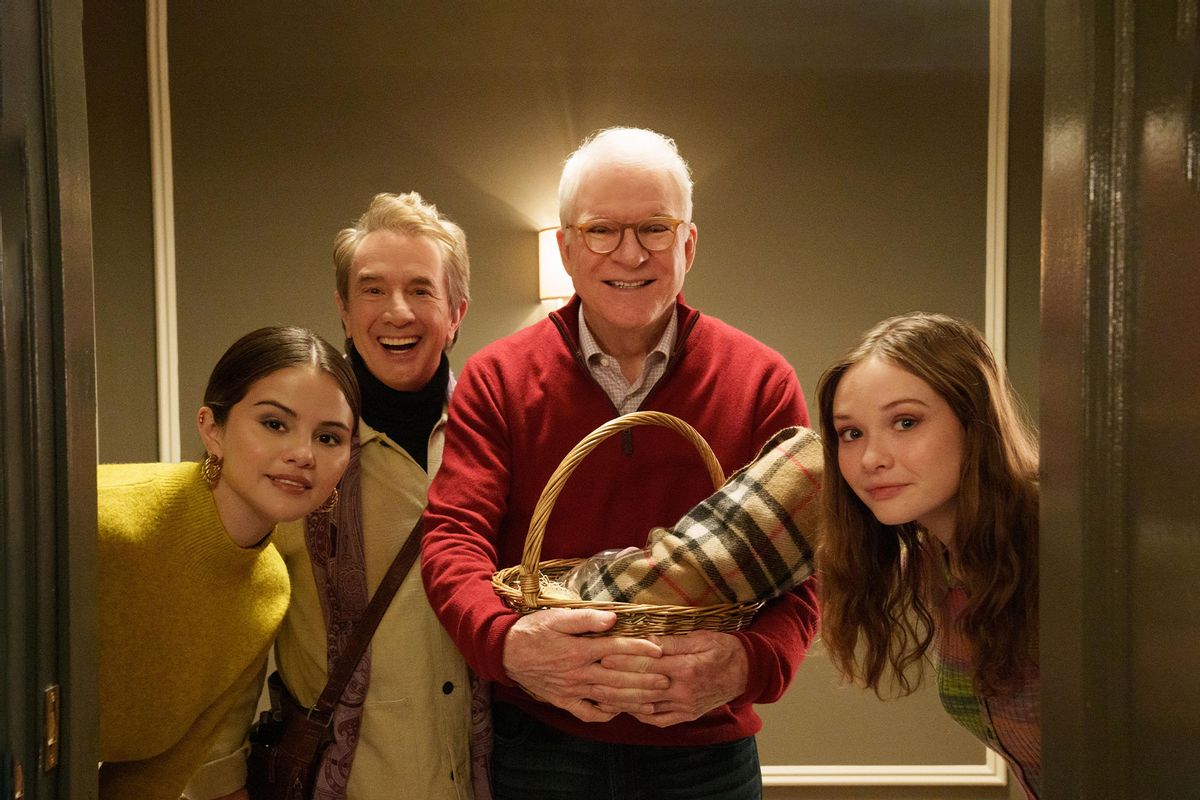 Similar to its first two seasons, Only Murders in the Building Season 3 is expected to have 10 episodes. The show's creators have hinted that the upcoming season will shift focus toward Martin Short's character, Oliver, as teased by a one-year time jump in the previous season that showed Oliver's Broadway directorial debut.
The first season delved into the emotional storyline surrounding Mabel and Tim Kono, while the second season explored Charles's relationship with his father. Fans can expect more intriguing twists and turns as the mystery-solving trio continues to investigate suspicious deaths in their Upper West Side building.
Also read: The Marvelous Mrs. Maisel Season 5: Release Date, Cast, Plot & Other Latest Updates
Where To Watch?
Only Murders in the Building is available for streaming on Hulu for US viewers, with subscriptions starting at $7. For fans in the UK, Canada, and other countries, the show can be watched on Disney+.
In conclusion, Only Murders in the Building Season 3 promises to be another exciting and engaging installment in the series, with new characters joining the investigation and fresh storylines to unravel. As fans eagerly await the mid-2023 release, they can catch up on the previous seasons and speculate about the mysteries that await the crime-solving trio.