Ted Lasso Season 3 Episode 1 Recap: Can the Greyhounds Turn Things Around?
The highly anticipated third season of Ted Lasso is here, and it looks like it will be a bittersweet ride for fans of the show. Recently, the series creator, Jason Sudeikis, announced that this will be the final season of the beloved show. While spin-offs are still a possibility, fans can prepare to say goodbye to the Greyhounds after this season.
In the season premiere episode, "Smells Like Mean Spirit," we find the Greyhounds still in preseason mode, Ted in an emotional state, Keeley starting a new business venture, and Nate possibly turning into a football supervillain. But before we dive into the plot, the episode starts with a heartwarming scene between Ted and his son, Henry. After spending the summer in London, Henry returns to Kansas City, leaving Ted feeling a bit lost. He talks to his therapist, Dr. Fieldstone, about his doubts and wonders why he's still in England.
As Ted cleans up his apartment, we see a LEGO rendition of Wembley Stadium, complete with miniatures of his co-workers, including Nate, who is placed away from the others. As Ted puts the miniature Premier League trophy on the display, Henry gifts him, we realize the weight of the moment, and it's a touching tribute to the Greyhounds' ambitions.
However, things are not looking good for the Greyhounds on the field. All the sports pundits have predicted AFC Richmond to end the season in last place, leaving Rebecca feeling uneasy. The tension builds, and we are left wondering if the Greyhounds will be able to turn things around.
As fans, we can only hope that the show will give us one more memorable season before coming to an end. With 12 episodes left, we are excited to see where the Greyhounds' journey takes us, and we can't wait to see what the writers have in store for us. Ted Lasso has already won over our hearts, and we know this season will be no different.
The latest episode of "Ted Lasso" sees Ted and the team dealing with the aftermath of Henry's departure and the announcement of Rebecca's ex-husband's ownership of West Ham, which is predicted to be a great success by pundits. While some members of the team are pragmatic about the situation, others, like Isaac, are enraged. Roy reports a positive review of Hoosiers and his strategy for the season to Coach Beard, and Ted signs off on it.
Nate is focused on social media and getting positive feedback, while Keeley now presides over KJPR and cries on Rebecca's shoulder during her regularly scheduled crying session. The episode offers a contrast in management styles between Nate, Keeley, and Ted, with Nate's coaching style mixing repetitive drills with humiliation. Ted takes the team on a motivational trip to the sewer to inspire them to construct an "internal sewer system" to remove mental waste and flush it out with the help of their teammates.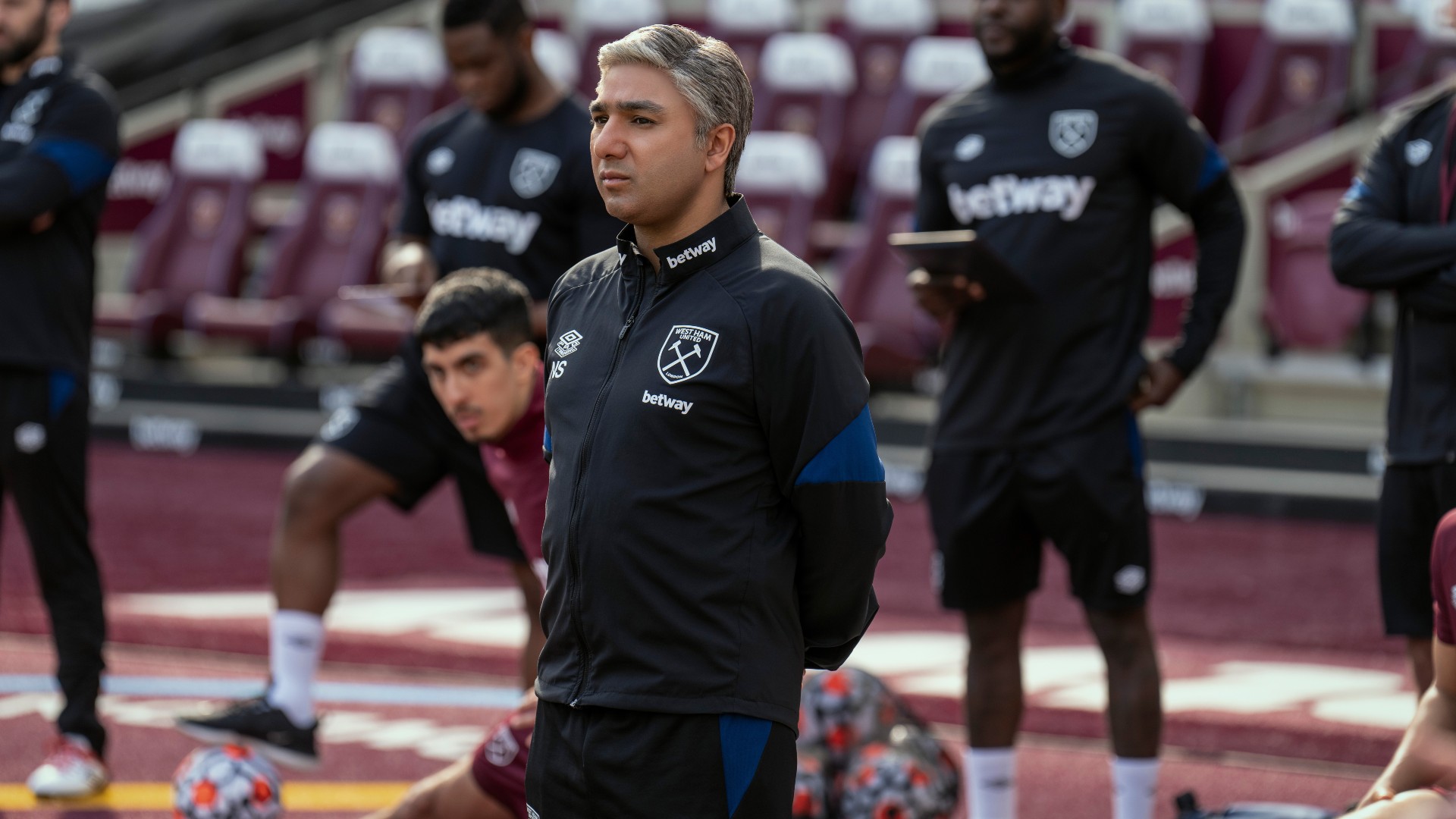 Nate is struggling to deal with his newfound power after being promoted to head coach of the team. While at Keeley's, Rebecca watches the West Ham press conference and witnesses Nate's nervous demeanor. However, he suddenly becomes confident and delivers a series of witty one-liners that win over the reporters, but cause trouble with AFC Richmond. Jamie Tartt steps up and reminds the team of Ted's teachings, exemplifying how Ted's influence is present even when he's not around.
Ted faces an uncomfortable meeting with Rebecca, who is frustrated with the team's current situation. She pleads with Ted to fight back against the criticism they have been receiving. However, Ted is not the type to fight fire with fire. Instead, he uses humor and self-deprecation to charm the reporters and win over Rebecca's approval. Meanwhile, Nate is upset with Ted's lack of support and is further angered when he receives a sports car from Rupert's assistant.
The episode touches on several other storylines, including the lingering feelings between Jamie and Keeley and the breakup of Roy and Keeley. The latter is discussed with Roy's daughter Phoebe, who takes the news surprisingly well. Ted also questions his own purpose and the reason he is in London.
Also read: When Can You Watch Ted Lasso Season 3? Release Date, Time, and Streaming Details
One character, in particular, has undergone a dramatic transformation: Nate. From a lovable underdog in the first season to a power-hungry assistant coach in the second, Nate's descent into egomania and paranoia has been hard to watch. However, a text message from his mother serves as a poignant reminder of why he started on this journey in the first place. His success has earned her approval, but his father objects to his language. It seems like he can't win, but he's seeking out alternative father figures, first with Ted and now with Rupert.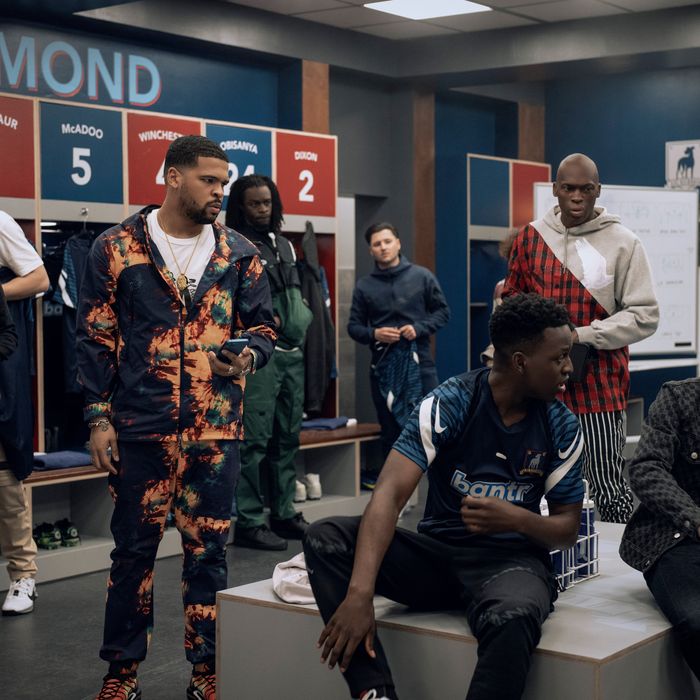 Speaking of music, the first song of the season sets the mood perfectly. Bob Dylan's "Wigwam" from his 1970 album, Self Portrait, plays as Ted makes his way back home. The album is known for its sense of uncertainty as Dylan tries to figure out what to do next, and Ted is similarly stuck in a state of mind. It's a powerful choice of song that perfectly captures the mood of the season.
Nate's walk-on music is equally telling. He enters the scene to the beat of "Follow the Leader" from Eric B. & Rakim's 1988 album of the same name. The lyrics are filled with lines where Rakim asserts that he's the real deal in the world of "rent-a-rappers." For Nate, it seems like an attempt to convince himself that he's also the best at what he does and in the right place doing the right thing. But the question remains: does he really believe it?
On a lighter note, fans of the show will be happy to know that the "Believe" sign has been repaired and restored. It's a small detail, but one that holds great significance for the characters in the show.
One reference in the show might be lost on US viewers. When Rebecca mentions crying at the "John Lewis Christmas commercial," most Americans might be confused. John Lewis is a British department store famous for their annual Christmas ads that tug at the heartstrings. For those unfamiliar with the tradition, it might be worth checking out the latest one and brace yourself for an emotional rollercoaster.
Finally, the show drops a hilarious line when one character remarks, "I look like Ned Flanders doing cosplay as Ned Flanders." It's a good reminder that even in the midst of all the drama, "Ted Lasso" still knows how to keep things light.
Interestingly enough, the Great Stink of 1858 is also mentioned in passing. This event might sound like a joke, but it was a serious problem that polluted the Thames, made people sick, and even drove Parliament out of the city. It ultimately led to the creation of a massive and still-in-use sewer system. It's an odd tidbit to include in the show, but it's a testament to the writers' attention to detail.
Overall, the second season of "Ted Lasso" has been full of surprises and unexpected twists. Nate's transformation has been difficult to watch, but it's a reminder of how success can change a person. The music choices have been spot-on, and the little details, like the restored "Believe" sign, add to the richness of the show's world. Whether you're a die-hard fan or a newcomer to the series, it's worth tuning in to see what happens next.