<
The third season of Euphonium, along with details for original video animation, has been announced. Kyoto Animations, creators of other fan favorites like A Silent Voice, the Netflix Original anime Violet Evergarden, and Miss Kobayashi's Dragon Maid, will continue to produce Sound! Euphonium for a third season.
In the light novel series Sound! Euphonium, protagonist Kumiko Oumae, a young woman with voluminous hair, spends the first several volumes trying to obliterate all trace of her musical past.
She competed in ensemble events while playing the Euphonium, and a brass instrument typically considered the band's lead instrument in the tenor-bass range.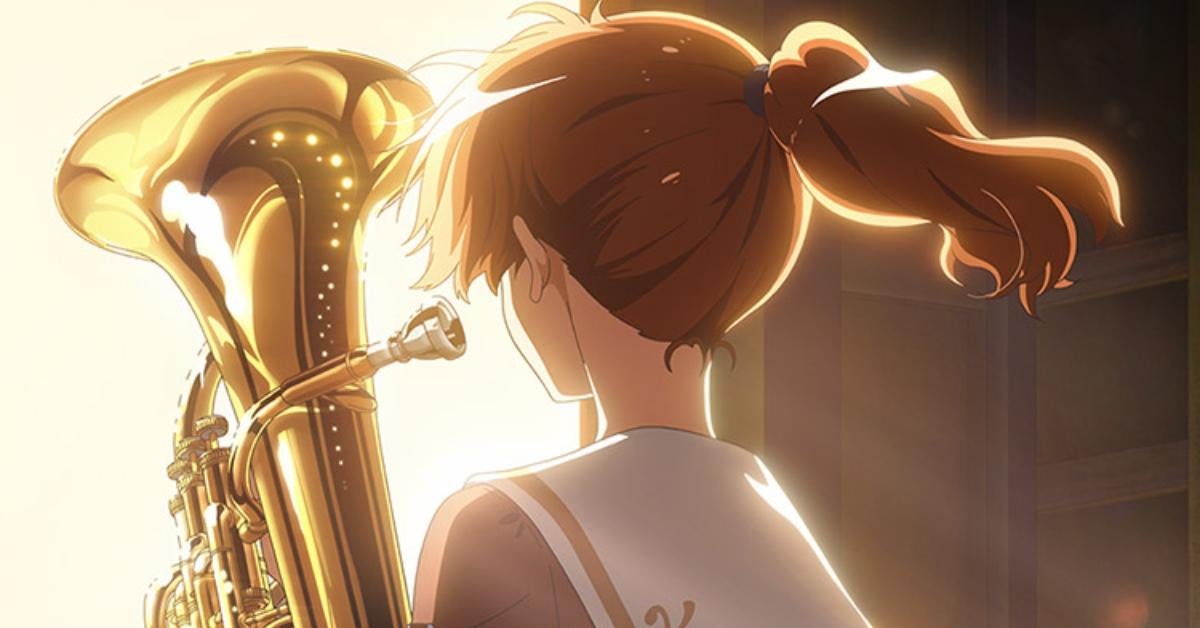 Due to a disappointing performance and a disagreement with a fellow band member at the most recent ensemble competition, she has decided to put her attention elsewhere.
Sound! Euphonium is an all-encompassing coming-of-age tale about the joys and trials of playing in an ensemble band, mending broken friendships, and achieving great things as a team. Season one debuted in 2015, season two in 2016, and other spin-offs have followed.
After the fire attack on the renowned Kyoto Animation studio in July 2019, many productions were delayed or stopped.
Sound! Euphonium Recap
In the pilot, Kumiko is at first trying to put behind her days of competing in in-band ensemble competitions. For her first year of high school, she chooses to surround herself with people she has never met and keep her distance from her old circle of pals.
However, both her new pals are enthusiastic about the high school's ensemble band, and they successfully persuade her to join. The high school band intends to compete in nationals despite never having done so before, and she is joined by an old friend named Reina Kousaka, whom she had to leave behind at her last ensemble competition.
Now, Kumiko must hone her musical chops with the novice group, mend fences with Reina, and rediscover her enthusiasm for music. The first season focuses on her challenges in her first year of high school.
The Blu-Ray version of Season 1 also includes a collection of bonus shorts that were never shown before, as well as a previously unaired episode that fills in the time between the season premiere's auditions and the final performance.
After advancing from the preliminary stage of the Kansai regional competition, the second season centers on the characters from the first season as they prepare for their next performance.
The band's director and his musician pals organize a summer camp where the students can stay up with their music studies while performing together. However, the ensemble's future is uncertain once a former member, a girl called Natsuki Nakagawa, expresses interest in rejoining the band; many of the second-year students are unhappy with the inclusion of the new member.
Kumiko and her pals are motivated to compete at the national level despite these setbacks and work together to make it happen. The film Liz and the Blue Bird follows Mizore Yoroizuka and Nozomi Kasaki as they practice a work based on a fairy tale of the same name and features supporting characters from the first two seasons.
Also Read: Uzumaki Anime Release Date And TIme, Storyline, Cast, And Where To Watch
The two drift apart throughout rehearsals, and the girls have trouble connecting with the roles they are supposed to be portraying. The 73rd Annual Mainichi Film Awards presented the film with the Noburou Oofuji Award for Creative Expression.
Both the first and second installments of Sound! have been adapted into a new film that was released in 2019. Second Turbulent Movement on Euphonium by the Kitauji High School Concert Band. Not only does Kumiko become president of the club, but Tomoe, a recurring character from earlier seasons, also does.
The film explores how the first-year and second-year students must overcome their differences and work together if they are to achieve their goals. Like the other episodes, this one focuses on the ensemble's efforts to enter the national competition they have been training for.
Expected Release Date of Sound! Euphonium Season 3
On June 4th, 2022, a teaser was unveiled. With the video included below, it is safe to assume that at least one of the two Sound! Euphonium: The Kitauji Concert Band's Decisive Final Movement novels will be adapted for season three, as it will focus on Kumiko's senior year of high school.
The launch of season 3 of the show is set for 2024, while an original video animation film is planned for 2023. The OVA film, which will reportedly cover the "Ensemble Contest Arc," will simultaneously debut in theaters and on Blu-ray disc.
We can presume that the third season will follow the events of Kumiko's junior year of high school, as described in the final two light novels since that is when the third season will take place.
Since neither of the final two light novels has been published in English, and the fan-translated version is only partially complete, there is very little information available to English speakers about the novel's actual contents.
According to the scant information available about the fan-translated parts of the light novel, the story will start with the band preparing for their third Sunrise Festival, a made-up event at which students from different high schools appear in imaginary performances.
【特別告知🎺】

🔶2023年 「アンサンブルコンテスト編」Blu-ray発売・劇場特別上映決定!

🔶2024年 TVシリーズ「久美子3年生編」放送決定!

▼特別告知🎞️https://t.co/5yjALyzvFc

『響け!ユーフォニアム』完全新作の2作品にご期待ください!
そして、次の曲が始まるのです――!#anime_eupho pic.twitter.com/rwHKfEx9aj

— アニメ「響け!ユーフォニアム」公式 (@anime_eupho) June 4, 2022
Though the film Liz and the Blue Bird adapts some of the third-year storylines, this is a diversion that does not explain the primary premise the trailer is teasing. The third season of Euphonium is filming now, and we expect to have it out in 2024.
English Dub of Sound! Euphonium Season 3:
Crunchyroll hosts the Japanese version of "Sound! Euphonium" with English subtitles.
Character roles in the Anime
Kumiko Oumae:
Kumiko, the main character of the show, is an accomplished euphonist. She lost up on her aspirations of becoming a musician after an unfortunate experience in middle school. She chooses to give music another opportunity after finding herself surrounded by brilliant musicians at Kitauji High School.
She joins the brass bands at the high school in the hopes of one day taking first place at the national high school band competition. Kumiko tries to manage schoolwork and band practice throughout the entire program and encounters many challenges in her path to pursuing music. Still, she never gives up on her dream of being a great musician.
Regarding Kumiko's personality, it is evident that she is an outspoken individual who frequently expresses her opinions while taking into consideration what others may think. She is also revealed to be a very inconsistent individual who frequently changes her mind.
Reina Kousaka:
Kumiko has known Reina, another key character in the program, for a long time. The two of them went to junior high together. Reina, a gifted trumpeter and the child of a working musician, has been greatly impacted by her father.
She also exhibits stoicism and takes great pride in her trumpeting abilities. Reina despises those who do not make an effort to separate from the crowd since she feels that playing the trumpet makes her unique.
Afterward, in the episode, it is revealed that Reina, Kumiko, and their band had won a junior high band competition but later fell out, which caused Kumiko to stop playing music.
Asuka Tanaka:
Asuka, the show's final main character, is the vice president of the high school brass band and is older than Kumiko and Reina. Asuka, like Kumiko, can be distinguished by her red-rimmed glasses and euphonium playing. However, her tendency to be combative makes her unpopular. In a later episode, Asuka experiences violence from her mother and is coerced into leaving the high school brass band against her will.