Santa Claus: Action Hero? David Harbour Gets Naughty As Santa Claus In 'Violent Night' Trailer.
In the movie Violent Night, David Harbour plays the man in the large red suit, a slightly jaded Father Christmas who likes to drink in his spare time but can still hit hard when the situation calls for it. When a squad of mercenaries (headed by John Leguizamo) hold a wealthy family at gunpoint to rob them of $300 million in their opulent, remote home's vault, this Santa Claus is going to town rather than less coming to town.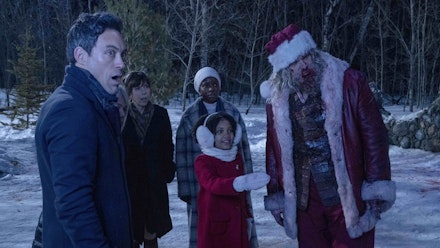 Claus is there to present a gift to the neighborhood's young resident, who is definitely kind. The hired guns? They will receive a lump of coal, but Santa is out of coal, so they will receive a grenade instead.
Tommy Wirkola, the director of the fairytale-altering Hansel and Gretel: Witch Hunters and the zombie mayhem of Dead Snow, is back for more fantasy-infused action mayhem, this time with a good dose of tinsel and fairy lights.
Empire spoke with Wirkola on keeping the movie sweet without ever being cloying and what stunts were considered during production when the teaser became available online.
Festive spirits
Recommended: Have A Christmas in June by Watching These Movies
As the bartender concerns about his ability to drive home, we first encounter David Harbour's Santa there. Although I steer, the reindeer actually perform most of the work, he claims. For Wirkola and the other participants, accepting Harbour as the star was a simple yes.
"When his name was mentioned, I, the studio, and the producers all agreed that he was the ideal candidate. Yes, he is who we want "explains Wirkola. "The first person we went out to was him. A few days later, I sat down with him, and he was enthusiastic about the script and full of wonderful suggestions."
Yule love it!
While Die Hard is a clear allusion, we couldn't help but be reminded of The Night The Reindeer Died, one of the phony TV commercials that opens 1988's Scrooged with Bill Murray. Even though Lee Majors is helping Santa in that, the concept of having to defend a home from mercenary striking strikes a chord. In actuality, that is what Wirkola and authors Pat Casey and Josh Miller had in mind.
"We actually spoke a lot about that; it almost sounds like the opening of one of those Scrooge commercials!" Wirkola is honest. "Yes, we considered about paying more homage to that moment if we ever had the good fortune to film a sequel. It's actually one of my favorite holiday films."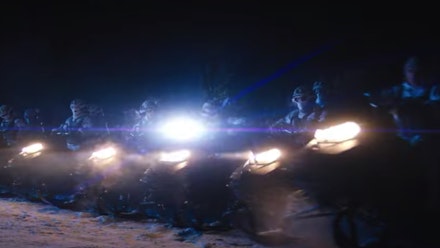 No (Christmas) Cookie Cutter Villain
John Leguizamo leads the villains here, looking to go home with hundreds of millions of dollars in his Christmas stocking. For Wirkola, Leguizamo was the one person he wanted to take on the role.
"John can be funny, can be charming, can be dangerous," he explains. "Oh, and his stand up is fantastic. I read his biography a few years back and I thought it was hilarious."
And he's not just a basic bad guy. "We really wanted somebody with more layers. It turns out he also has like a chip on his shoulder when it comes to Christmas itself."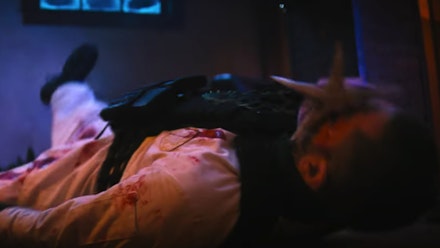 Recommended: Why People Go On Holiday To Experience a White Christmas
The Night The Reindeer Died, one of the fictitious TV commercials that opens 1988's Scrooged, starring Bill Murray, sprang to mind even though Die Hard is a clear allusion. Even though Lee Majors is supporting Santa in that, the concept of having to fight off mercenaries attacking a house is compelling. Wirkola, Pat Casey, and Josh Miller, who wrote the story, actually had that in mind.
We actually spoke a lot about that; it seems like one of those advertisements from the opening of Scrooged! Admits Wirkola. "Yes, we contemplated perhaps paying more homage to that scene if we were fortunate enough to film a sequel. It's one of my favourite Christmas movies."