Ke Huy Quan's Net Worth in 2023: From Refugee to Oscar Winner
Ke Huy Quan, also known as Jonathan Ke Quan, has had a remarkable career as an actor that spans nearly four decades. The Vietnamese-American actor first began his acting journey back in 1984 and has since starred in several iconic movies such as "Goonies" and "Indiana Jones and the Temple of Doom." His performance in "Everything Everywhere All at Once" earned him an Oscar for Best Supporting Actor in 2023.
Net Worth
Ke Huy Quan's net worth is being estimated at $1 million in 2023, which might seem somewhat low for an actor of his caliber, it's important to note that Quan has been in and out of the industry and has only made ten movies since he started in 1984. Furthermore, his career started when he was just 13 years old in "Indiana Jones and the Temple of Doom." However, with his recent success, Quan is expected to receive more lead roles and showcase his talents, leading to an increase in his net worth in the future.
Early Life
While Quan's journey in the entertainment industry has been incredible, it's worth noting how he got to the United States from his native Vietnam. Quan was born in Saigon in 1971, a time when Vietnam was in the midst of a 20-year-long war. As his family was living in South Vietnam, which was losing the war, life was incredibly tough for him and his eight siblings. In 1978, his family was forced to flee and ended up in Hong Kong, where they lived for a year before arriving in the United States as refugees in 1979.
Ke Huy Quan opens up his journey as a refugee and the gratitude he feels for his parents. https://t.co/SEZQdjUTTZ pic.twitter.com/T4wnMAqtHc

— Variety (@Variety) March 15, 2023
Work & Recognition
Quan's first major role came around five years after he arrived in the US, when he was cast as Short Round, Indiana Jones' sidekick, in "Indiana Jones and the Temple of Doom." He received critical acclaim for his acting, despite it being his first experience in movies. A year later, he landed a role in another classic movie, "Goonies." These two great movies put Quan on the radar in the movie-making business, leading to new opportunities in smaller productions. He also made a great short film while studying at the USC School of Cinematic Arts, showing his talent for film-making and acting.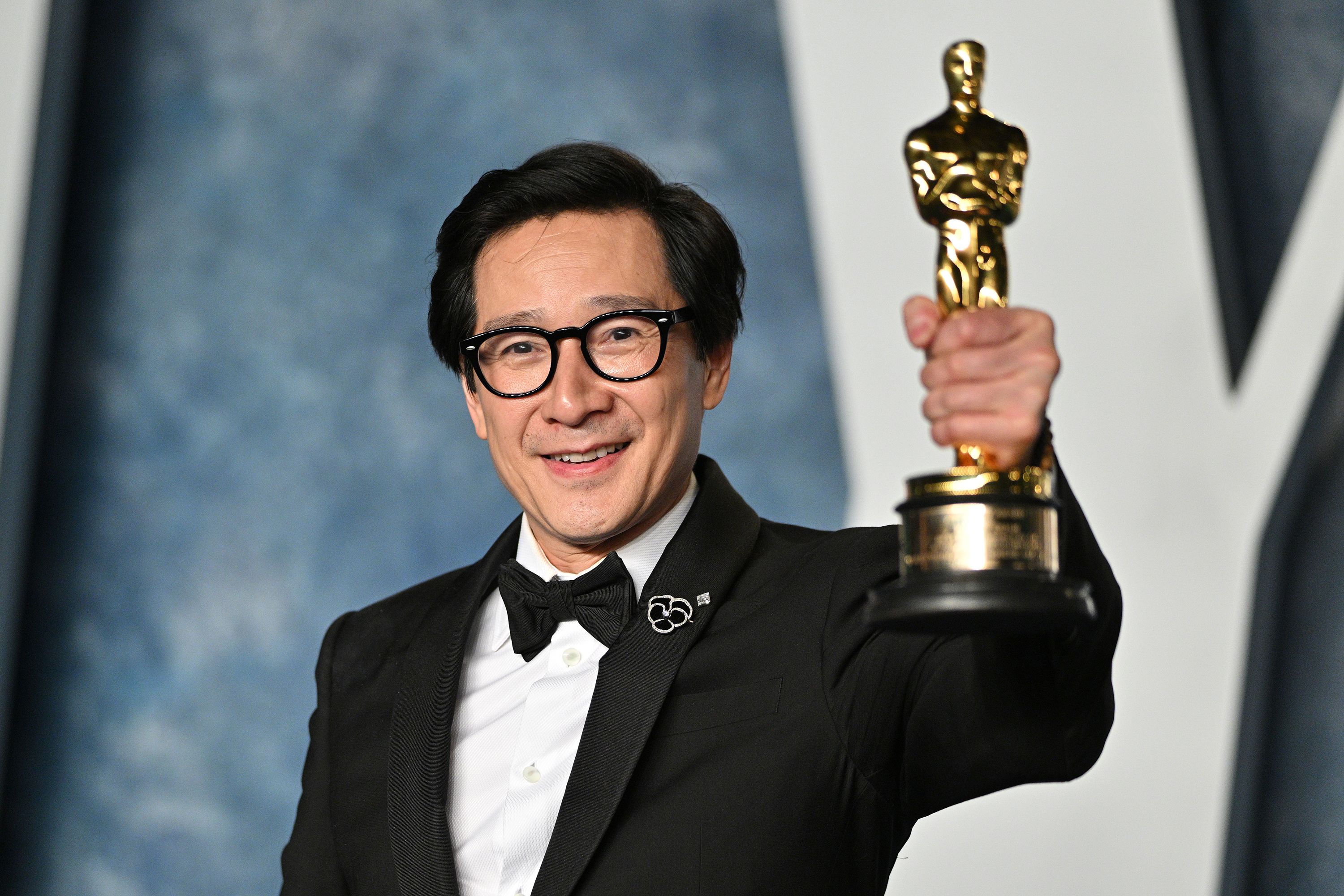 At the end of the 1990s, Quan shifted from acting to producing due to difficulties finding acting work. He worked on several good movies, such as "X-Men" in 2000 and James Wong's "The One" in 2001, before ending that part of his life with an international production called "2046," released in 2004.
In 2018, the release of "Crazy Rich Asians" gave Quan the opportunity to find acting work again. The directors of "Everything Everywhere All at Once," The Daniels, found him on Twitter and cast him as Waymond Wang, the lead male character in the movie. Quan's performance in the film was outstanding, earning him a Golden Globe and an Oscar, along with several other nominations and awards.
He won an Oscar for Best Supporting Actor in "Everything Everywhere All at Once" in 2023. During his acceptance speech, Quan expressed his gratitude towards his mother, who was watching from home, and acknowledged his past as a refugee. He also thanked his wife for supporting him throughout the years and encouraged everyone to keep their dreams alive. Jamie Lee Curtis, his co-star in the same film, also won an Oscar for Best Supporting Actress, making it a momentous occasion for the movie.
Ke Huy Quan's journey from being a refugee to an Oscar-winning actor is an inspiration to many. He has proven that with hard work, perseverance, and dedication, anything is possible.
Frequently Asked Questions:
Q: What did Ke Huy Quan do for a living?
A: Ke Huy Quan started his career in acting with a few roles in the 1990s. However, he took a long hiatus from acting and worked as a stunt choreographer and assistant director. He made a comeback in the science fiction film Everything Everywhere All At Once (2022).
Q: What did Ke Huy Quan win an Oscar for?
A: Ke Huy Quan won the Best Supporting Actor award at the Academy Awards for his role as Waymond Wang in the best picture-winning movie "Everything Everywhere All at Once." In the press room, he spoke highly of his "Goonies" brothers, who wished him luck before his big night.
Q: Where is Ke Huy Quan from?
A: Ke Huy Quan is originally from Ho Chi Minh City, which was formerly known as Saigon. It is the largest city in Vietnam, with a population of around 9 million in 2019. The city is situated in the Southeast region of Vietnam, surrounding the Saigon River, and covers about 2,061 km².
Q: Why did Ke Huy Quan quit acting?
A: In his 20s, Ke Huy Quan had difficulty landing acting jobs, which led him to feel disheartened. He eventually made the decision to switch from being in front of the camera to working behind the scenes. He later admitted to lying to himself that acting was no longer fun for him, which led him to step away from it.