Wednesday Season 2 Release Date, Cast, Lady Gaga Rumors And Other Juicy Updates
If you're one of the many viewers utterly bewitched by the Wednesday series and eagerly awaiting a second season, you're in good company. The Addams Family spin-off has rocketed to the top of the charts, outshining even Stranger Things with an astonishing 341.23 million hours viewed in its first week. Netflix has taken notice, and we're excited to report that Wednesday season 2 is officially on the way!
In this article, we'll delve into everything we know about the upcoming season, including debunking those pesky cancellation rumors, investigating the possibility of a Lady Gaga cameo, and sharing insights from the show's creators and cast members. So, grab your favorite gothic garb and let's dive into the dark world of Wednesday Addams.
The Burning Question: Is Wednesday Season 2 Happening?
The answer is a resounding yes! Netflix confirmed the news on Twitter with an electrifying announcement video. This aligns with earlier reports from Deadline that the streaming giant was actively recruiting writers and scouting locations for the next chapter of the series.
Wednesday has been officially renewed for Season 2! pic.twitter.com/ekqlxP9ueW

— Netflix (@netflix) January 6, 2023
Both the show's creators and stars have expressed enthusiasm for a second installment, with co-showrunner Miles Millar telling TVLine, "We felt like we just touched the surface with those characters and the actors are so amazing in those roles. Catherine [Zeta-Jones] is, I think, an iconic Morticia. The relationship between Wednesday and Morticia is also essential to the show, and the idea that Wednesday is trying to forge her own path outside the family is important."
Alfred Gough, the series' co-creator and executive producer, hinted at the potential follow-up before the official renewal, stating, "Miles [Millar] and I are talking amongst ourselves about it. There's definitely more that you can explore in the world of the Addamses." Gough also confirmed that, as with season 1, the plan for season 2 is to feature the rest of Wednesday's family in some episodes while keeping the primary focus on the enigmatic lead character.
Gwendoline Christie, who plays the delightfully sinister Larissa Weems, has also teased her return for a potential second season. In an interview with Digital Spy, the Game of Thrones alum hinted, "We haven't seen her put in the ground, have we? I feel like Larissa Weems would not really be prepared to entertain or be dominated by anything as commonplace as death."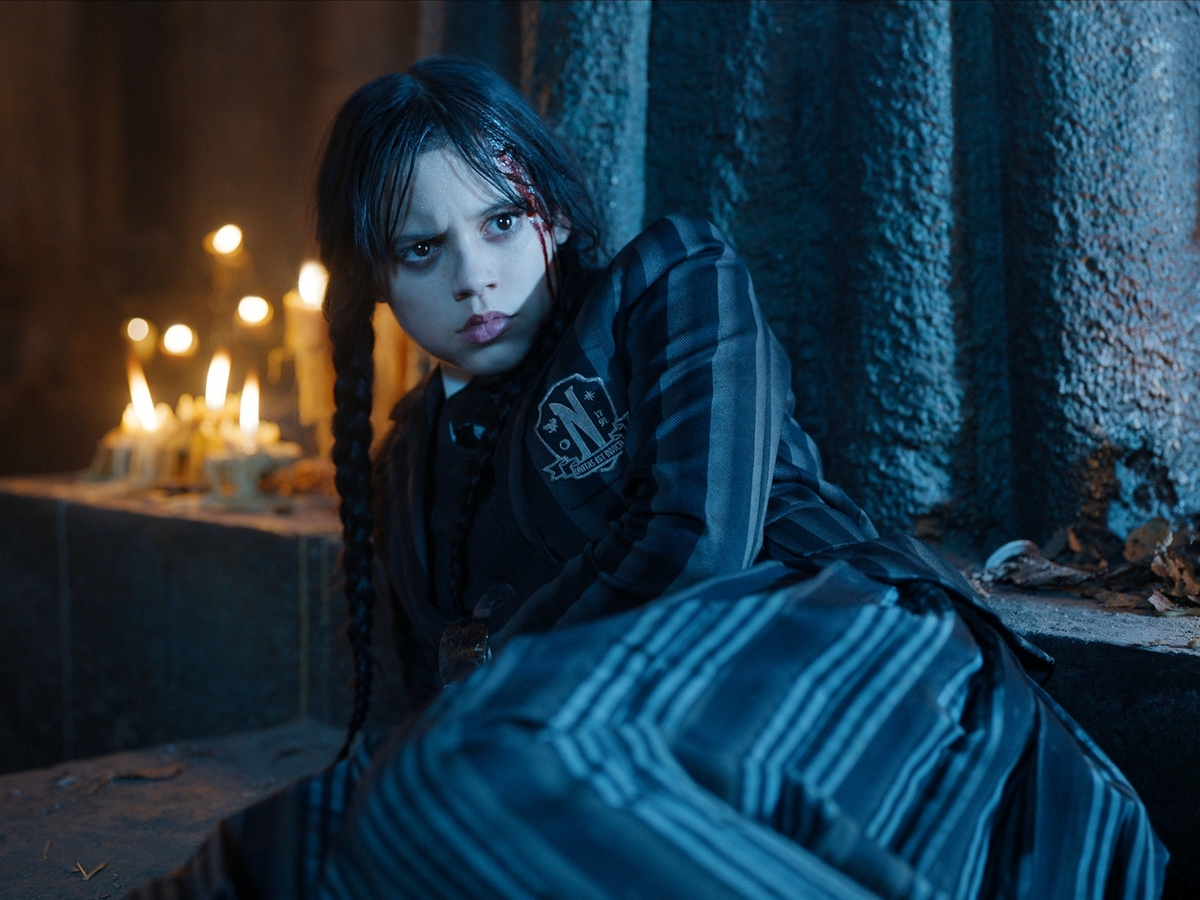 Jenna Ortega, who portrays Wednesday herself, shared her own ideas and hopes for season 2 in a conversation with Entertainment Tonight. The actor expressed her desire for a darker tone, saying, "I kind of want [Wednesday] to be darker," and revealing her wish for the character to take more risks in future episodes. "There are a lot of lines about her saving the school and doing whatever, but for me, her main drive with the monster is of a competitiveness," Jenna explained. "Kind of, 'Man, how's this guy doing this?' I think I want it to continue down an antihero stream rather than a typical hero."
Projected Release Date for Wednesday Season 2
While it's difficult to pinpoint an exact release date, we can look at season 1's timeline for clues. Filming for the first season began in September 2021 and wrapped in March 2022, with the show premiering roughly eight months later. If Netflix follows a similar schedule, Wednesday season 2 would require six months of filming and eight months of post-production, placing the potential release date in early to mid-2024.
Casting News: Who's Returning for Season 2?
While there's no official word on the returning cast for Wednesday season 2, it's safe to say that we can expect some familiar faces from season 1, including:
– Jenna Ortega as Wednesday Addams
– Catherine Zeta-Jones as Morticia Addams
– Luis Guzmán as Gomez Addams
– Isaac Ordonez as Pugsley Addams
– Fred Armisen as Uncle Fester
– Gwendoline Christie as Principal Larissa Weems
– Jamie McShane as Sheriff Galpin
– Percy Hynes White as Xavier Thorpe
– Hunter Doohan as Tyler Galpin
– Emma Myers as Enid Sinclair
– Joy Sunday as Bianca Barclay
Rumor Mill: Is Lady Gaga Joining the Cast?
The tantalizing prospect of Lady Gaga joining the Wednesday cast is currently nothing more than gossip. However, Mother Monster did show her appreciation for the show when her 2011 song "Bloody Mary" became the soundtrack for Wednesday-inspired TikTok dances. Jenna Ortega, a self-professed Gaga fan, was thrilled by the connection and shared her excitement in an interview with Variety at the 2023 Golden Globes.
Dispelling Cancellation Rumors
Fear not, Wednesday fans! Despite recent TikTok videos suggesting that the show has been canceled due to MGM Studios' sale from Netflix to Amazon, the truth is far less dramatic. As reported by Deadline, Amazon purchased MGM for $8.5 billion and now owns the rights to the series. However, Amazon has stated its intention to license out the content rather than make it exclusive to Amazon Prime Video. This means that a bidding war is currently underway between Netflix and Amazon Prime Video for the rights to Wednesday season 2.
Jenna Ortega to Executive Produce Season 2
In a recent Elle cover story, it was revealed that Jenna Ortega is set to executive produce the second installment of the series. The busy actor also plans to take a month off to unwind, travel, and focus on her personal life. She shared her determination to maintain a healthy work-life balance in the interview, stating, "There's a part of it that's stressful because it's like, 'Oh my God, can I tell this director that I don't want to work these two weeks? Can I?' I don't know, but I am also making the rules."
With such tantalizing tidbits and a confirmed second season, fans of Wednesday have plenty to look forward to. Stay tuned for more updates as we eagerly await the return of the captivatingly creepy Addams clan.
Frequently Asked Questions:
Q: Will there be a Wednesday season 2?
A: Yes, Netflix confirmed Wednesday season 2's renewal on January 6, 2023, following a teaser featuring the show's protagonist at her typewriter.
Q: What is the story of Wednesday Season 2?
A: While specific season 2 plot details remain under wraps, it will likely continue following Wednesday's adventures as she hones her psychic powers and unravels mysterious events at Nevermore Academy.