Spice Girls Reunite To Celebrate Geri Halliwell's 50Th Birthday, David Beckham Posts Video
The Spice Girls, sans singer Melanie Brown, sang and danced to their hit song 'Say You'll Be There.
Last weekend, the crowd-favorite, 'Spice Girls' came together to celebrate happy times. Christian Horner's wife, Geri Horner, celebrated her 50th birthday with the Spice Girls gang. When the Spice women unite, it's all about 'girl power, even the world-famous soccer star, David Beckham agrees with this fact.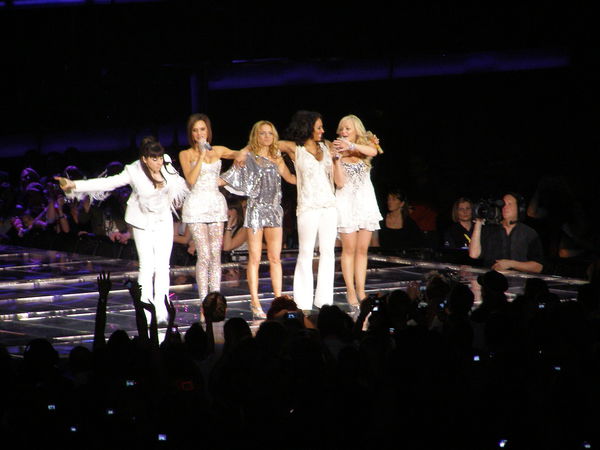 This Weekend, Geri's Special Occasion Brought The Spice Girls Together After Several Years.
With an undying friendship that has grown over the years, the celebrities celebrated their life together, as Victoria Beckham and David Beckham also attended the event. In fact, Beckham took to his Instagram account to post about the special night.
Beckham posted a video of the 'Spice Girls' partying it up to their global hits like 'Say you'll always be there, as they celebrated Ginger's birthday in style. In the video, the pop stars can be seen singing, dancing, and sharing laughs as they have an absolute blast, as they always did, whenever they took to stage!
Recommended:Atlanta Falcons Pay Tribute To Migos Rapper Takeoff
In the video, we can spot Melanie Chisholm, Emma Bunton, Geri Halliwell Horner, and Victoria Beckham dancing and goofing with each other. David Beckham even used the 'girl power' – Spice world tour gif over the video.
He further captioned it, saying, "Special celebrating Ginger [Britain flag emoji] this weekend and even more special to capture this moment of the girls [heart emoji] A friendship for Life [heart emoji]"
Subsequently, fans went crazy. The Spice Girls are a classic act and for good reason. They empowered women over the years with their music and bold choices. Many fans want a reunion tour and they didn't shy away from demanding it.
The Internet Broke As The 'Spice Girls' Came Together For Geri's Birthday
The iconic 'Spice Girls broke the internet as Beckham's video gave us a glimpse of Geri's 50th birthday bash. The internet got nostalgic and demanded the girl band to come back on tour! Many claimed that this was 'everything' and it 'fixed their day.' Here's what they said:
Hopefully, she wants a reunion tour now [laughing emoji, lovestruck emoji]
Ain't no party like a spice girls party [heart emoji, heart emoji]
In October, Victoria appeared on Watch What Happens Live and addressed a fan who asked if she was willing to do what every Spice Girls fan longs for: a revival tour.
"I had so much fun being in the Spice Girls," she said. "But I think now with everything else I've got going on — with my fashion, and my beauty line, four children — I couldn't commit to that."
Host Andy Cohen then asked if the ABBA hologram concert in London — orchestrated by former Spice Girls manager Simon Fuller — presented an opportunity the band would be open to.
Anne Hathaway, who was also appearing on the episode, agreed with the host. "Hologram Spice," they both suggested.
"That's a great idea," Beckham replied enthusiastically. "That is a good idea."
Despite the fashion designer's reluctance to commit to any kind of revival, she maintained her love for her former bandmates — and their music.
"I had so much fun in the Spice Girls. I love the girls," she said. "I really, really enjoy singing Spice Girls when I'm doing karaoke."
Recommended:Jimmy Kimmel to Host Oscars Again: 'Great Honor or a Trap'
In Honor Of The 25Th Anniversary Of Spiceworld, The Group's Second Album, Last Week, Chisholm Has Been Vocal About Her Interest In Gathering Her Former Band Members Once Again.
"We don't see each other as much as we'd like … but we stay in touch and we're always talking about opportunities and trying to get everyone back on stage together…" she told Extra on Oct. 4.
She added that she and Brown — who recently got engaged — are "championing" the effort to get the girls back on stage — and recruiting Beckham is always a focus.
"We're always working on her. It's like … 'No pressure. But the world wants it,' " said Chisholm "It is our dream to get her back."