"Monk" Fans Rejoice! Tony Shalhoub Returns in New Movie Coming to Peacock
Get ready to solve a mystery with Adrian Monk, as Peacock announces the release of a new movie based on the beloved comedy series "Monk." "Mr. Monk's Last Case: A Monk Movie" will follow Monk, played by the incomparable Tony Shalhoub, as he solves "one last, very personal" mystery.
Peacock, a part of NBCUniversal, has ordered the follow-up movie, with the original creative team including creator, executive producer and writer Andy Breckman, executive producer David Hoberman, and executive producer/director Randy Zisk. The film is produced by UCP, a division of Universal Studio Group.
In the movie, Monk, a brilliant detective with obsessive-compulsive disorder, returns to solve a case involving his beloved stepdaughter Molly, a journalist preparing for her wedding. "The movie has the heart and humor of the original series with a contemporary relevance," said Michael Sluchan, EVP, Movies, Kids, Daytime, NBCUniversal Television and Streaming. "We're overjoyed to work with the original creative team, including Andy, David Hoberman, Randy Zisk, the unparalleled Tony Shalhoub, and our partners at UCP, for what is sure to be a must-see movie event for Peacock audiences."
"Monk" first launched on USA in 2002 and ran for eight seasons, with the series finale breaking ratings records as the most-watched cable drama at that time in 2009. The show was a game changer for USA, ushering in the entire Blue Sky brand that catapulted the network to the top of the cable ratings with a string of hits that included "Psych," "Royal Pains," "White Collar," "Burn Notice," and "Suits."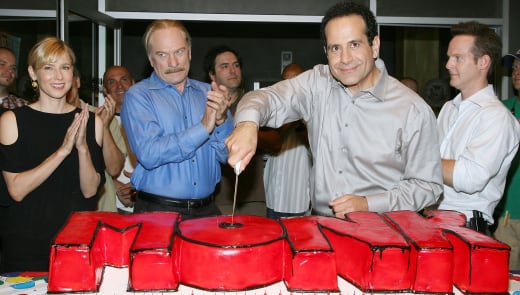 Fans of "Monk" have been eagerly awaiting the return of the iconic detective, with talks of a potential movie starting shortly after the series finale aired. The Monk follow-up film follows the same trajectory as "Psych," which also had three films, the last two being Peacock originals.
"We can't wait for Peacock viewers to experience this fresh, fun, and imaginative film," said UCP president Beatrice Springborn. "New and returning fans of 'Monk' will love how this creative team was able to preserve all that we admire about Adrian Monk while bringing him into the present."
"Monk" won a total of eight Primetime Emmy Awards and two SAG Awards. Shalhoub, who was also an executive producer, was Emmy-nominated for Outstanding Lead Actor in a Comedy Series for eight consecutive years (2003 to 2010) and won in 2003, 2005, and 2006.
With all eight seasons of "Monk" available to stream on Peacock, fans can relive the iconic moments leading up to the highly anticipated release of "Mr. Monk's Last Case: A Monk Movie."