Lee Jihan, K-Pop Singer & Actor, Dies at 24 in Seoul Crowd Crush
South Korean President Yoon Suk Yeol has declared a period of national mourning until Nov. 5.
Singer and actor Lee Jihan was among the 153 who died in the Itaewon stampede in Seoul, South Korea. He was 24.
Lee's agency, 935 Entertainment, confirmed the news in a statement: "We are sad to deliver such news today, but Lee Ji-han has passed away in the crush in Itaewon. We would like to express our deepest condolences to his family, who are saddened by the sudden tragic news, also to everyone who loved him."
Jihan Was A Rising Star In The Korean Entertainment Industry, Having Competed In The Second Season Of The Korean Singing Competition Produce 101.
The show, which centers on 101 K-Pop performers vying for a spot in an 11-member boy band. Jihan gained a fanbase after performing covers of hits like "Overdose' and "Be Mine" before he was eliminated in the fifth episode.
Following the reality competition, he began taking on acting roles. In 2019, he appeared in the Korean drama Today Was Another Namhyun Day.
The crowd crush tragedy occurred over the weekend when a crowd surge took place in a narrow alley. Over 140 were injured, with the victims being mostly young adults from a span of 14 countries. As of Monday, Korean police have launched an investigation into what happened, including looking into how crowd control measures and safety precautions failed.
President Yoon Suk Yeol has declared a period of national mourning until Nov. 5. Several K-pop releases and events have been canceled or rescheduled in the wake of the deadly event.
Recommended: Marilyn Monroe Died At The Age Of 36 . Fans Still Doubt Her Death
Posting a black square on Instagram, they wrote in their statement that they were "heartbroken to be greeted with sad news" of his death and told fans Jihan "has become a star in the sky and left us".
Expressing their "heartfelt condolences" to his family and all those who loved him, they called him "a sweet and warm friend to all".
They also wrote about his "bright smile" and paid tribute to his "passion for acting", wishing him well for his "last journey".
Jihan Found Fame On South Korean Reality Show Produce 101 Back In 2017, Where 101 K-pop Hopefuls Competed To Win A Place In An 11-member Boy Band.
Despite not being picked to be part of the final band – Wanna One – Jihan used the platform to move onto acting, starring in the South Korean high-school drama Today Was Another Nam Hyun Day.
Former Produce 101 contestants Park Heeseok, Kim Do-Hyun, and Cho Jin Hyung also paid tribute. They wrote in a joint statement: "Ji Han has left this world and gone to a comfortable place. We ask that you say goodbye to him on his final path."
Funerals for the victims are already underway and South Korea's government said it will offer support for funeral expenses.
According to AllKPop, Ji Han's funeral will be held on 1 November.
How Did Seoul Halloween Celebration Turn Into A Deadly Crush?
Packed into narrow alleyways lined with bars and clubs, thousands of people traveled to Itaewon, an area of Seoul, for the city's first Halloween festival since the COVID-19 pandemic.
But as the crowds grew throughout the night to unmanageable levels, the celebration turned disastrous as a crush in one alleyway left at least 154 dead.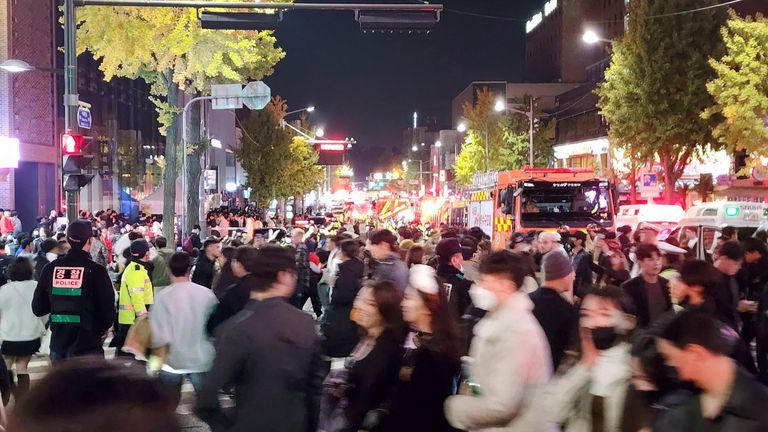 Sky News has analysed videos from social media to show how it took just 30 minutes for the situation to spiral out of control.
They also confirm an apparent lack of police or security presence in the build-up to the crash.
Recommended: House Of The Dragon Finale Trailer Teases Another Major Death Before Season's End
Halloween Celebrations
The revelers turning up for the celebrations were predominantly young, with many travelling to the area via Itaewon train station.
Some live-streamed videos of their evening on Facebook. The screenshot below, taken from one of these livestreams, shows crowds beginning to form on the main road by the station at 8.10pm.