Kate Hudson's Net Worth: Exploring Fortune Of Hollywood Darling Turned Successful Entrepreneur
Net Worth
Full Name
Kate Garry Hudson
Net Worth
$80 Million
Date of Birth
April 19, 1979
Birthplace
Los Angeles, California, U.S.
Work
Acting, Business
Partners/Spouses

Chris Robinson (marriage 2000-2007),

Matt Bellamy (relationship 2010-2014),

Danny Fujikawa (engaged 2016-present)

Children

3

Years in Career
1996-present
Kate Hudson, an American actress, producer, and entrepreneur, has built a net worth of $80 million, thanks to her impressive acting career and her role as a co-founder of the popular subscription fashion company, Fabletics. Born into a family of actors, Hudson quickly gained attention for her striking resemblance to her famous mother, Goldie Hawn. However, it was her undeniable talent that propelled her to stardom and allowed her to create a name for herself in both the entertainment industry and the world of fashion.
Career Beginnings
Kate Hudson's acting career began in the late 1990s, making her film debut in "Desert Blue." Her breakthrough role came in 2001 when she played the charming and captivating Penny Lane in Cameron Crowe's "Almost Famous." This performance won her a Golden Globe and other major nominations, including an Academy Award nomination for Best Supporting Actress.
Hudson continued to make a name for herself in the romantic comedy genre, starring in box office hits like "How to Lose a Guy in 10 Days" and "Fool's Gold." However, her career took a different turn in the 2010s as she explored more diverse roles in films like "The Killer Inside Me" and "A Little Bit of Heaven."
Also read: Joey King's Net Worth: Have a Look At Her Early Life, Career, Personal Life & Other Interests
From Acting to Entrepreneurship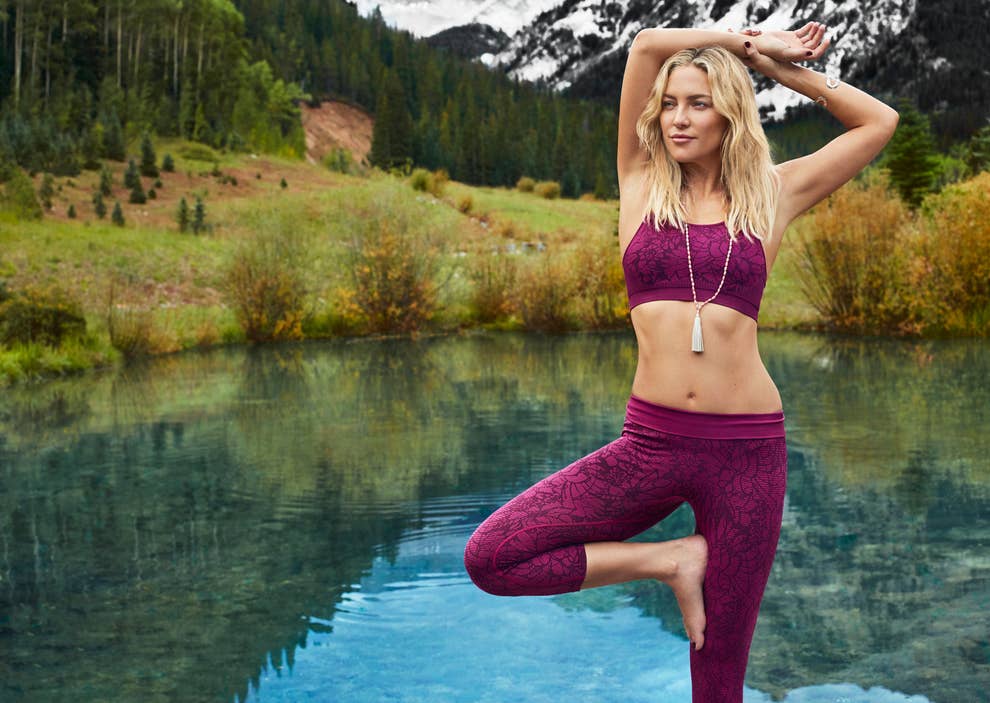 In 2013, Hudson co-founded Fabletics, an athleisure company that has since grown exponentially, operating 22 retail stores and a menswear line. In 2020, Fabletics reached $500 million in revenue, and in 2021, the company was reportedly seeking a public valuation of $5 billion.
A Hollywood Legacy
Born in Los Angeles to actress Goldie Hawn and actor Bill Hudson, Kate Hudson was raised by her mother and her long-term partner, actor Kurt Russell. She considers Russell her only father and has no relationship with her biological father.
Following her passion for acting, Hudson chose to forgo a college education after being accepted to New York University, instead, focusing on building her acting career. This decision proved to be the right one as she went on to become a successful actress and entrepreneur.
Also read: Reese Witherspoon's Net Worth Post Divorce With Jim Toth: Assets and Achievements
A Glimpse into Kate Hudson's Personal Life
Kate Hudson's personal life has been in the spotlight throughout her career. She was married to Chris Robinson, the frontman for The Black Crowes, from December 2000 to October 2007. The couple had a son, Ryder Russell Robinson, born in January 2004. Hudson later dated Muse frontman Matt Bellamy, and the two became engaged in April 2011. Their son, Bingham Hawn Bellamy, was born in July 2011. The couple ended their engagement in 2014 but reportedly continue to co-parent on good terms. Hudson began dating Danny Fujikawa in 2016, and the couple welcomed their daughter, Rani Rose Hudson Fujikawa, in October 2018.
Kate Hudson's personal life has also made headlines over the years. She was married to Chris Robinson, frontman for The Black Crowes, and has a son with him. Hudson was also engaged to Muse frontman Matt Bellamy, with whom she has a son. She is currently dating Danny Fujikawa, and the couple shares a daughter.
Fabletics: Kate Hudson's Fashion Empire and Beyond
In July 2013, Kate Hudson joined forces with Don Ressler and Adam Goldenberg to co-found Fabletics, a subscription-based athleisure company that has grown exponentially over the years. Initially focusing on e-commerce, Fabletics now operates 22 retail stores and has expanded into menswear with the FL2 label. As of 2017, Forbes reported that the company was valued at $250 million, with Hudson owning an estimated 20% stake. Assuming this valuation has remained steady, her pre-tax stake would be worth $50 million.
Fabletics' success continued, surpassing $500 million in revenue in 2020. Co-founders Ressler and Goldenberg also operate TechStyle Fashion Group, the parent company of Fabletics. TechStyle boasts a portfolio of fashion brands, including JustFab, FabKids, ShoeDazzle, and Savage X Fenty. In July 2021, it was reported that Fabletics was seeking to go public with a whopping $5 billion valuation.
Also read: Billy Gibbons' Net Worth In 2023: Know About His Life, Career And Other Interests
Hudson's Real Estate Investments and Earnings
Kate Hudson has made significant real estate investments over the years. In 2003, she purchased a home in Los Angeles' Pacific Palisades neighborhood for $5.4 million. In June 2011, she acquired the property next door for an additional $5.3 million.
Throughout her acting career, Hudson has earned a total of $26.3 million from various film roles. Some of her most notable earnings include $7 million each for "Bride Wars," "My Best Friend's Girl," and "Raising Helen," as well as $4.5 million for "How to Lose a Guy in 10 Days."
With her successful acting career, thriving fashion empire, and savvy real estate investments, Kate Hudson continues to make a name for herself in the entertainment and business worlds, proving that she is a force to be reckoned with.
Frequently Asked Questions:
1. What does Kate Hudson own?
Kate Hudson is a co-founder of Fabletics, a popular athleisure brand offering personalized outfits for men and women based on their lifestyle and fashion preferences.
2. How much does Kate Hudson make from Fabletics?
Kate Hudson reportedly owns 20% of Fabletics. In 2017, the company was worth around $250 million, earning Hudson an estimated $50 million from this venture alone.
3. What car does Kate Hudson drive?
Kate Hudson enjoys road trips and her vehicle of choice is the Infiniti QX60, a luxury SUV perfect for her adventures.
4. Is Kate Hudson a Heiress?
With a net worth of around $80 million, Kate Hudson is considered an heiress. She is the daughter of Hollywood legend Goldie Hawn, and her biological father is Bill Hudson while her stepfather is Kurt Russell.